What is Bicas?
Bicas stands for Bicycle Inter-Community art & salvage and is located at 44 West 6th Street, Tucson, AZ 85705.
Bicas was founded in 1989 and is now celebrating its 25th. It is Tucson's Bicycle recycling and education center. Its mission is to promote education, art and a healthy environment while providing service and opportunity for those in need. It offers the following:
Bike repair

Learn to build a bike or fix your bike

Selling refurbished or recycled bikes
Education

Bike part salvaging / recycling
Bike art creation
Bike maintenance workshops
W.T.F (Women, Trans, Femme) Monday workshops

Bike repair workshops and training
Hands on bike repair fees
Community Service and Community tools
Okay, let's get started and welcome to Bicas:
The workspace and spare parts at Bicas
You can buy spare parts or refurbished parts at Bicas. These are a few pictures of the workspace and spare parts:
Community Tools
Bicas allows you to use the tools for just $4 per hour or $12 a day. However, if you volunteer / work at the shop then you earn $8 credits for each hour.
Art at Bicas
Affiliated artists, salvage bike parts to create nice artwork. Contact art@bicas.org for more information.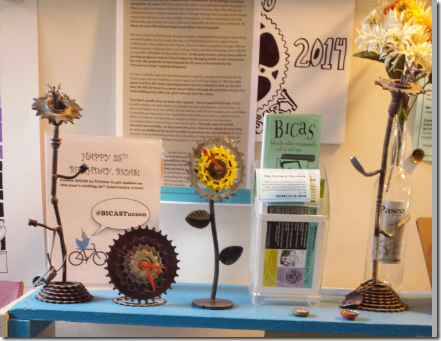 You can find more art at Revolta.Etsy.com
Useful bike and parts diagrams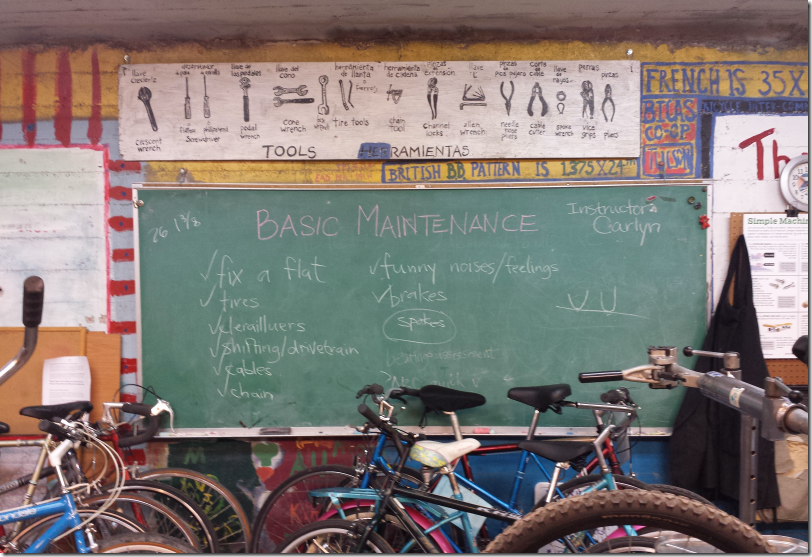 Supporting Bicas
Bicas is looking for help to raise 250k USD in order to secure their own building in Tucson.
If Bicas sounds interesting to you and you can help, then please visit Bicas.org and place a donation.
Equally, you can donate your time and skills to the community.