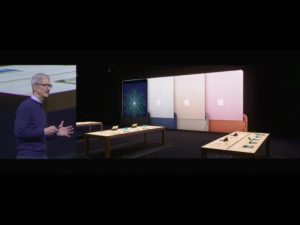 Today was the the WWDC 2017 Apple Event. It was packed with all new interesting features. I am excited about iOS 11 and the upcoming AR and VR stuff.
Another note worthy policy change is that Apple mentioned that it will start allowing in-app purchases. Is that the reason why Amazon Prime agreed to return to their platform?
1. Apple TV
Amazon is coming to the platform. That means: Amazon Prime Video!
2. Apple Watch
watchOS 4 will be available this fall
A new Siri powered watch face: the watch face adapts and changes the information displayed on the watch face
Kaleidoscope watch face
Toy Story watch faces
Enhanced the "Activity watch face", for example set monthly goals
Workout watch face:

High intensity workout training
Do multiple workouts in a single session
Feature to automatically start your favorite music when you start a workout

Watch integration with the workout equipment (via NFC). This feature requires support from the manufacturer (starting this fall)
Use the Watch as a flash light to do as blinking device when running at night
Music app on Watch:

Multiple playlist
Automatic sync
Better integration between Apple watch and the AirPods

New dock interface
News app: with "save later to read on the phone" feature
3. The macOS
macOS High Sierra is the new version code name

All about deep technologies
Available in Public Beta by end of June

Safari

Optimized for speed and battery: bench-marked against other modern browsers
ECMAScript 5
Auto-play blocking: detects the sites that should not play video and let you push the play button when you want
Intelligent tracking prevention: with machine learning to detect tracking websites

Mail

The search feature is not refined and it uses spotlight
Split view to compose mail
It uses now 35% less disk space to store your mail

Photos

Filter feature to sort the photos
Improved the People detection and synchronization of people info across devices
Improved editing functionality

Modern File System

Apple file system (APFS): The APFS is the new default file system that will replace The HFS is an 30-years old file system
Instant cloning/duplication of folders
Sparse file writes
etc.

Video

Supports the new standard H.265
Hardware acceleration by newer Macs

Graphics

Metal 2
Up to 10x better draw call throughput
Faster frame debugger
GPU counters
Window Server is now on top of Metal
Metal is now used for machine learning
Metal for external graphics

Use Thunderbolt I/O to use external graphic cards
Thunderbolt 3 enclosure
Latest AMD Radeon graphic card

Metal 2 is now VR-Optimized
Steam VR is coming to the Mac
Unity and UnReal engines to the Mac

Native VR support
4. The Mac devices lineup
The focus was mainly regarding the iMac.
iMac are getting an update

Display

500 nits
43% brighter
10-bit dithering
One billion colors

Processor and memory

7-th-gen Intel Core (Kaby Lake)
Up to 32gb and 64gb memory support
Faster storage: Fusion Drive with 50% faster SSDs and up to 2TB
Two USB-C adapters

4k, and 5k models
Native VR support

New

iMac Pro

Available in December
Bad ass grey color finish:

The most beautiful ever made
The most powerful ever made

5k design
80% increase in cooling:

Quitter
and more performant

Ships with 8, 10 and 18-core Xeon Processors
Graphics

Radeon Vega graphics

Brand new workstation class video card

Up to 16gb of VRAM
Up to 11 Teraflops single precision

Or Up to 22 Teraflops half precision
Up to 128GB EEC RAM
Built-in 10 Gbit Ethernet
Hook up two other displays
1080p facing camera

MacBook

Faster standard graphics on MacBooks
Processor update to 7th-gen Intel Core "Kaby Lake"
Even the MacBook Air is getting an update starting today
5. iOS
iPhone
The world's best and most advanced mobile operating system
iOS 11: iOS goes to version 11
Messages

Redesigned App Drawer to let you access apps from iMessages
iMessages in iCloud: all conversations will be automatically synchronized across devices
Message remain end-to-end encrypted
iMessage app to do person to person payment powered by Apple Pay

Apple Pay: the number #1 adopted mobile payment

Will be available in more than 50% in retailers in the US
Apple pay for person to person payment
Integrated with iMessages
Apple Pay cash card

Siri

Available in 21 languages in 26 countries
Natural expressive voice for Siri
Better visual interface
Features Translation feature: you can ask it to translate text and read it for you in the foreign language.
Siri would now try to predict what you want next

Uses on-device learning to predict what you might want to do next
The learning is then synched across devices

Camera

With latest iPhone you can use HEVC video encoding and compression
HEIF format to replace JPG with better resolution and compression
New depth API exposed to developers
Live Photos

Edit the photo and select the key frame
Loops for live photos (like animated gifs)

Forward and backward playing repeated loops

Maps

Show speed limit
Lane guidance
Indoor maps for:

Malls

Detailed floor plans of Malls
Browse by floor

Airports

Indoor floor plan for airport terminals

New "do not disturb while driving" mode

Automatic response for messages
Allow override for this do not disturb mode

Control Center major redesign
HomeKit

New Apple AirPlay 2 protocol
Lets you configure speakers

Apple Music

27 Million paid subscribers
The app now shows what your friends are listening (with their faces as stickers on the music albums)

App Store: the best App platform in the world

180 Billion apps to date
70$ Billion dollars paid out to developers
In-app purchase from the App Store
New tabs

Today tab is the new front of the app store
Games tab
Apps tab

Better App store product page

Machine Learning with Core ML

Vision API

Face tracking and detection
Landmark detection
etc.

Machine learning model converter tool to import models created by other software

Augmented Reality (AR)

The introduction of the ARkit
Fast and stable motion tracking
Plane estimation with basic boundaries
Scale estimation
Support for the Unity3D and UnReal frameworks
iPad Pro
A new iPad Pro 10.5″ inch retina display

Weights 1 pound
Full-size on-screen keyboard
Also full-size smart cover keyboard

More than 30 languages support

New "ProMotion" technology

Double refresh rate to 120 hz
Improves scrolling speed
Better Apple Pencil latency: 20 ms
Dynamically refresh the display rate (improves battery life)

Performance
10 hour battery life
Features the latest camera features from iPhone 7

12MP camera
7MP FaceTime HD camera
Retina flash

USB 3 support
Fast charging: in half the time
Starting with 64GB of memory up to 512 GB storage
LTE or non-LTE editions

New accessories

More colors
New Apple Pencil sleeve

iOS 11 iPad features

The Dock is now more powerful (like the MacBook interface)
Better multi-tasking gestures and features
New App switcher
Drag and Drop support

Drag apps to the dock
Drag apps to create a split view
Drag items between apps
Drag photos from Photos app to the Mail app for instance

Improvement to the QuickType keyboard
New App called "Files"

Brings all your files
Nested folders
Recents view
Supports 3rd party storage app

All 3rd party storage apps integrate natively with the "Files" App

Drag attachments from emails to the "Files" app
Multi select
Tap and hold to show files so you drag and drop them in other apps

Apple Pencil

Instant markup in Safari and other apps that support it
Screenshot annotation
Searchable handwritten notes in the Notes app
Inline drawing in the text notes in the Notes app
Notes App

Document scanner
Deep integration with the pencil
6. HomePod
Reinventing home music with a breakthrough home speaker with these goals:
Rock the house: the best audio
Spatial awareness technology: automatically detects the space around it to adjust the audio
Musicologist: to help you discover the best music. Designed to work with Apple Music subscription
Specs
7 inches tall
Amazing audio technology

Directional control
Precision acoustic horns

6-array Microphone and "Hey, Siri" support
Apple designed woofer

Automatic base equalization
Dynamic modeling
Multi-channel echo cancelation

Powered by Apple's A8 chip
Siri support:

Home assistant
News
Traffic
Sports
Messages
HomeKit control

Costs $349
Two colors:Light and Space Grey
Ships in December
You might also like: